So a couple years back Mister Adequate and myself visited a little arcade that was in the back of a dinky bagel shop.  So far so normal, right?
As it turns out this arcade was anything but normal.  The room itself had a weird feeling to it, as if it wasn't quite of this world but was trying its hardest to blend in.  The games themselves were proof that this wasn't your average arcade.
For starters, there was a Pac-Man machine with a maze that wasn't anything like a normal Pac-Man maze.  Also, when you won, it said "Linear Elect" instead of Game Over.  I actually took a picture of it because it was so weird.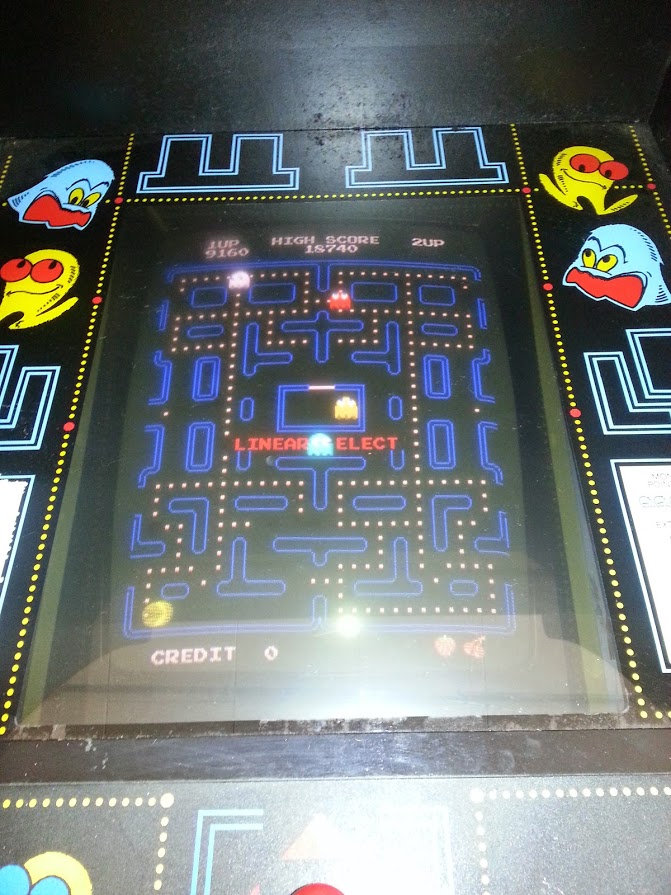 There was also a game called "Kickman" which neither I nor Mister Adequate have ever heard of before in our entire lives.  Now not to brag or anything but we kind of know a lot about video games.  It's why we're writing this blog, after all.  But "Kickman"?  It was brand new to us.  Wikipedia says it exists, but I'm dubious.  I'm pretty sure the wikipedia page was spawned into existence by whatever otherworldly power is behind that strange arcade.
Finally, there was a Frogger machine that refused to accept regular quarters.  Presumably because it only accepts quarters from its own native dimension – wherever that is.
I think the only normal game in the building was Donkey Kong.  Probably because Nintendo hardware is impervious to things like damage and black holes and time continuums.
So there you have it.  The strange tale of the arcade from an alternate universe.  I wonder what other sorts of games await us beyond our own world?