Er, or the pigeons. Anyway. What I'm going to talk about in this post is something I expect will be a common theme for me because I find it rather fascinating. That is to say, how AIs act when direct human intervention is absent or minimized.
I'm not quite sure why this is, but I am fascinated by – have always been fascinated by – watching a game do its thing with a minimum of intervention on my part. I suppose this is something that many people do enjoy, given the success of The Sims franchise, but for me it extends into almost any genre you can think of. If there are AIs, I will want to watch them do their thing without me being involved, or watch them reacting to some particularly huge event I set in motion and then retreat from the scene, like some kind of nuke-delivering playwright.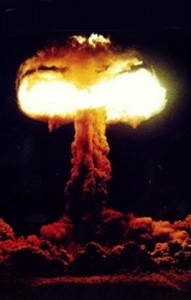 Here's the thing: I know what the computer can do to me, generally speaking. I can figure out how it works and unless I set myself particular conditions (Which I admit I usually have trouble sticking to) I can exploit the AI's inevitable weaknesses. When it's AI against AI, I can oftentimes see a more level playing field which is consequently quite enjoyable to watch.
Sometimes though, it goes in a stranger direction still. Take Populous: The Beginning. Now, when I play that game, I really get into it. And when I visit disasters on a rival I really like to watch how they deal with it. I very commonly storm in, wipe out everything except any critical buildings and a couple of builders, then retreat and watch them rebuild. I do the same in various other strategy and RTS games. I love watching an AI country/state/tribe/etc. put itself back together, deal with the hardship I have inflicted. Now, I'll concede, to some extent there is a streak of vicious sadism here. I flat out enjoy knowing that their puny civilization exists at my indulgence. But still, I enjoy watching it work as a system, as an 'intelligence' of whatever sort as well as a group of little computer people, a simulated society (However crude these simulations may be at this point notwithstanding).
With broader applications I think systems like this can be very powerful for immersion and enjoyment in games. Though I think GTAIV was a somewhat flawed game, the way it drew you into the world – in large part reliant on building a convincing city to inhabit – was quite astounding and unmatched. I guess what it boils down to is: Watching stuff happen without player involvement can be a critical thing in immersing the player. I'm eagerly awaiting the day when a game comes out where you are just one actor among many. Not in the MMO sense so much as… imagine Dynasty Warriors. Now imagine you're a regular soldier on the battlefield, or at least the other generals and such run around as actively as you do. Conventional game design wisdom places the player as the primary actor, but also makes the player's character the primary actor in-universe, and often enough the only one who has agency of any meaningful sort. I don't agree entirely with this wisdom – I think being part of a larger system could not only serve as a strong method of immersion, but would also make the things the player does control that much more tangible and meaningful.