If you are anything like myself or Mister Adequate, then you will be well-acquainted with that obnoxious insect that comes around every six months or so and nibbles on you and makes you nostalgic for World of Warcraft and won't stop nibbling until you actually re-sub. This invariably results in a few weeks of playing little else but WoW until the bug is satiated and flies away– for the time being, anyway.
I was visited by this bug about a week back and after several days of trying to ignore it and swat it away while it hummed the Karazhan theme in my ear, I recently caved and re-downloaded the game. I know, I know.
Now I haven't played in months and months and one of the things that I always felt bad about was that I left my long-time main, Tawyn, rather unceremoniously dumped in Stormwind in a bunch of greens from the new Cataclysm content– basically I played for about a month after Cata launch and then realized "You know what, I'm still bored of raiding and heroics" and logged out and didn't return. So poor Tawyn wasn't retired in her level 70 epics or her level 80 epics– no, she was retired wearing [Boring Uldum Pants of the Whale] and such. Obviously this wasn't going to do, so the very first thing I did was transmogrify into old stuff from my favorite ever raid instance, Karazhan, and various assorted BC heroics. For the first time in years, Tawyn matched my figureprint of her and the mental image I have when I think of her. I… really can't express how good this felt.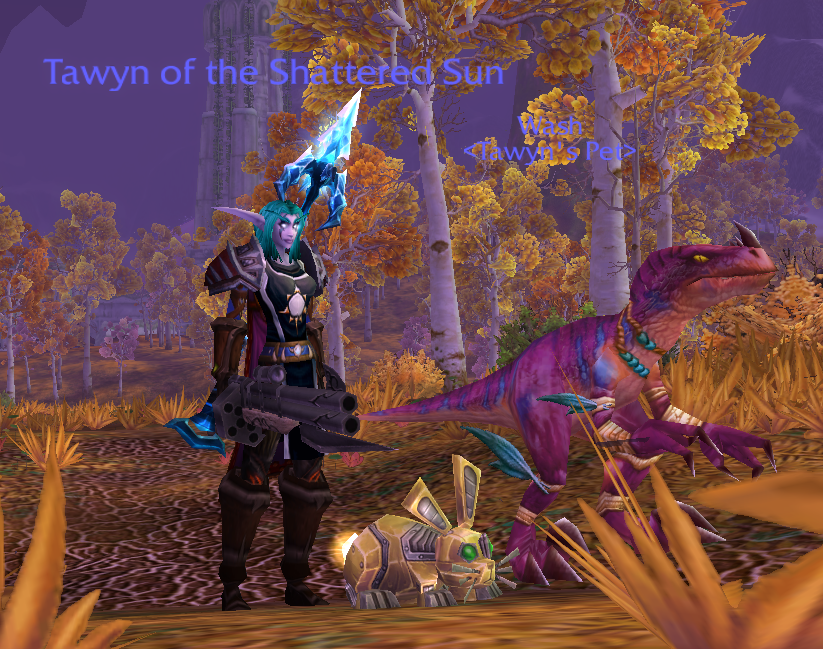 Suddenly, playing my character was fun again. Because suddenly, I didn't look like a scrub in greens. Nor did I look like a mishmash of epics from the current content. Rather, I looked like my character— something I was proud of.
Don't get me wrong. I still don't feel like raiding or doing heroics or really any sort of endgame. But at least I can deal with dailies and things like leveling once MoP comes out (should I get the expac– I'm still not sure if I will.)
The new patch comes out tomorrow and it gets rid of hunter stat sticks, which means I'll lose my lovely Sonic Spear and I won't be able to sport my Legacy in the future. But you'll have to pry Wolfslayer Sniper Rifle out of my cold, dead, purple hands.